Job Details & Day-to-Day Teaching Responsbilities
Teaching | Lesson Planning | Staff Meetings | Assigning Homework | and More
Your job title as a westerner who teaches English as foreign language
Before we discuss the job description we'll first offer a little clarification to the job title.
There's an abundance of synonyms for westerners who teach in Korea. English teacher is obviously the most common but English instructor, foreign teacher and student teacher are also commonly used terms.
F.E.T. - Private School Teachers
The official job title we use with our private-school clients when referencing candidates, or the schools current staff, is F.E.T.'s. This is an abbreviation for 'Foreign English Teachers'. It's probably the most descriptive title because you're essentially a foreigner who's teaching English in Korea.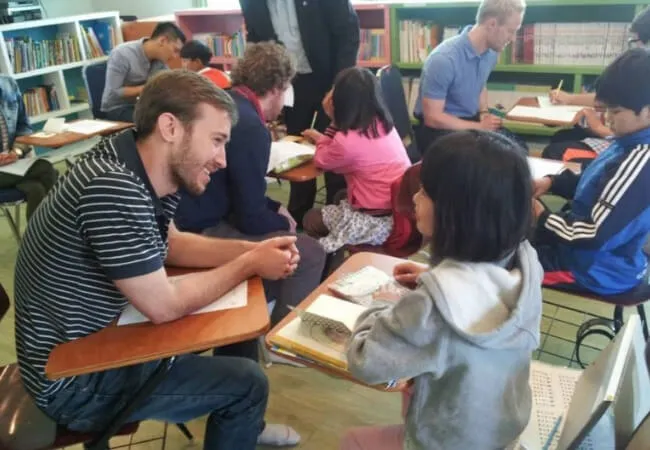 G.E.T. - Public School Teachers
The public-school programs such as EPIK and SMOE (Seoul Office of Education) typically refer to western teachers as G.E.T.'s, which is the abbreviation for 'Guest English Teachers'.
As an F.E.T or G.E.T your primary job involves preparing lesson plans with the curriculum provided by the school and then implementing your lessons in the classroom (i.e. to your students).
What you'll be doing on a day-to-day basis
Engaging students in English conversation is the top priority
You'll be spending the majority of your work day in the classroom with your respective students. The remainder of your work day (when you're not in the classroom) will be spent in the teacher's office. This is where you'll prepare your lesson plans, take breaks between classes and socialize with your co-workers. The office area will be equipped with pc's, printers and scanners, text books, flash cards, English games and other teacher types of resources.
One of the hardest things to do when starting out is memorizing the names of all your students. It's not an easy task but figuring it out can be fun, plus most Korean kids will be using western names during their English classes. You'll likely have lots of students with common western names like Sally, Jack, Lina and so on. Esther is really popular among the girls but we have no idea why because it's not an easy name for Korean's to pronounce. If you ever figure it out then make sure to let us know!
Preparing for your classes is a must. All schools (private, public and international) will require their teachers to commit no less than 45 – 60 minutes of class preparation time each day. During this period you'll be expected to organize your books, make photo copies, gather audio equipment, develop quizzes, etc. It's 'teacher stuff' and there is no way to avoid this responsibility. Failing to prepare for your classes will usually result in a warning from your school manager (if you're working at a private school) or your Korean co-teacher (if you're working at a public school).
Common Teacher Responsibilities
Typical Duties You Can Expect To Do Regularly
Teaching conversational English will be your primary task. Ultimately, it's your responsibility to keep the students engaged and talking as much as possible.
Organizing textbooks, making photocopies of student worksheets, mapping out your classes and preparing classroom materials. Teacher stuff!
You'll need to teach a set curriculum each day. If you're unable to cover all of it during class then you can assign it as homework.
Assigning homework also means that you'll need to mark it the following day. In many cases, you'll be able to mark it during classes.
Many schools, especially in the private sector, will ask their foreign teachers to assess student English speaking abilities.
Regular staff meetings with co-teachers and school management are quite common. How many staff meetings you have depends on management.
You'll likely get to enjoy the odd field trip with your students. It will be your responsibility to supervise the students during these trips.
You may be asked to attend the occasional teacher workshop or seminar with your co-teachers. It's a great way to learn some new teaching skills.
Yes, Korean parents expect report cards from their children's teachers! These reports are usually required quarterly, or bi-annually.